Welcome to BFC-Stash!
CHRISTMAS CORNER - 25% OFF

It's always fun when you start stitching Christmas projects to have a *stash* of fun embellishments. Our Christmas Corner sale will help you start your stash off right!
Beads - Thread Kits - Angelina Fibers - Embroidery Glitter - Fibers - Sequins - Gold and Silver Mesh
Limited to Stock on Hand - Prices shown already have the 25% discount. Sale will end 9/17/14 at 6:00 am EDT
FREE DESIGNS AND TUTORIALS
FREE DESIGN AND HOW TO USE GLITTER, STITCHFOIL OR FABRIC
I made the above ornament using scraps of Embroidery Glitter. There are full instructions on how to do this and also how to use fabric or Reflectra Stitchfoil with this design. The ornament is reversible as shown below
DOWNLOAD HERE
TUTORIAL - ADDING DETAIL WITH FIBERS
This Tutorial shows you how to add details on project that need just *a little something more*. I used this method to create the branches for Fred's Large Kingfisher.
DOWNLOAD HERE
This design comes in 3 sizes - Small, Medium and Large for each version.
FREE 4th OF JULY DESIGN YOU CAN USE WITH OR WITHOUT GLITTER - DOWNLOAD HERE
Regular Design
Design using White, Red and Blue Glitter
FREE ORNAMENT DESIGN YOU CAN USE WITH OR WITHOUT GLITTER - DOWNLOAD HERE
I WANTED TO SEE HOW ORNAMENTS LOOKED WITH THE CLEAR WHITE GLITTER FUSED ON TOP. I LOVE THE LOOK! IT CHANGES AS THE ORNAMENT MOVES AROUND. IT REMINDS ME OF THE FROSTED GLASS ORNAMENTS.
DOWNLOAD HERE
Tutorial on Using Embroidery Glitter or Reflectra Stitchfoil Scraps
DOWNLOAD HERE
Three Sizes - Small, Medium Large
DOWNLOAD HERE
Three Sizes - Small, Medium Large
Download all Three Free Designs shown below(each has two sizes - 4x4 and 5x5)
These designs can also be used with Reflectra Stitchfoil or fabric. Instructions included.

FREE TUTORIAL - FIBER FOLIAGE
FREE TUTORIAL - FIBER FOLIAGE
FREE TUTORIAL - CREATING TASSELS
It seems we always have odds and ends of thread and yarn. These instructions show you a super easy way to make some decorative tassels. Variegated Thread is great for tassels!
DOWNLOAD TUTORIAL - CREATING TASSELS
Financing Available
We now offer 6 months, 0% interest on purchases over $99. Choose Paypal to checkout out and then BillmeLater. If you don't have an account, you will asked a few short questions, I have used BillmeLater for years and love it. It always seems good sales come at the wrong time!
Free Design from BFC-Stash
This Pumpkin is Free standing Lace to be used with Angelina Film, Angelina Fibers, organza or fabric. It is for the 4x4 hoop. You get full instructions to stitch your Pumpkin plus how to prepare your Film or Fibers.
Click to download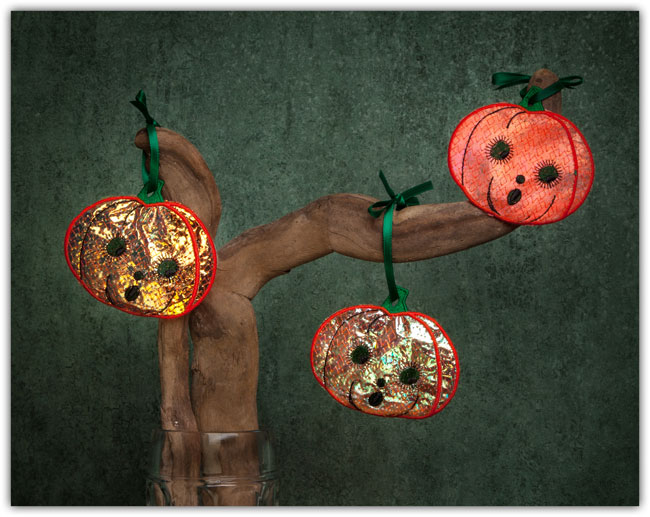 FREE TUTORIAL
A lot of you have asked me what to do with Angelina and the new gold and silver mesh. I use them to create backgrounds and have created a tutorial to show you how.
TUTORIAL - CREATING BACKGROUNDS - I
Free Designs!

For Reflectra Stitchfoil and Angelina
You get two versions of the Christmas tree - One for Angelina and one for Reflectra Stitchfoil. Each tree has 3 sizes for a total of 6 designs. You also will get full instructions to use both the Angelina and Stitchfoil.
Click to download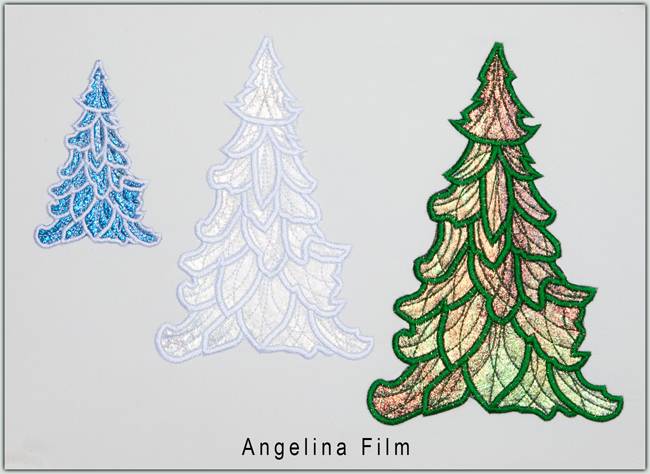 The images below show the same design in different lighting. The top one is full light. The bottom image is in a dark room with only a flashlight illuminating it.
The changes in the designs in the movie below are done just by moving the light source. This shows the highly reflective properties of Reflectra Stitchfoil
Funky Fiber Fun Flowers
Free Designs with Instructions
for using them with Fibers.

You will get 2 flower designs
in two sizes and one circle
design in two sizes.

Click to download
We now have 39 colors of Angelina Fibers
and Angelina sets of Film and Fibers!
FREE TUTORIAL: EXCITING ANGELINA PART 1 - includes free design!
FREE TUTORIAL: EXCITING ANGELINA PART 2 - A Shell three ways - includes free design!
BFC Design Thread Kits are now available. We are initially going to be offering sets from BFC1083 forward (the ones that have BFC Poly) Once these are all on the site we will work on the ones with Admelody thread. If you want a kit that is not yet listed, just e-mail Suz@BFC-Creations.com and I will put it on the site. We will be adding sets as quickly as possible. These kits are priced at 20% below the cost if you bought the cones individually. They do not include Black and White so you won't end up with lots of cones of these two colors.
Go to START SHOPPING, BFC Design Thread Kits
FREE DESIGN
I created the designs above to use our new Flower Beads. You will get two sizes: 4x4 and 5x7. The design just contains the stems and leaves so you can add your flowers. You can use this on the shoulder of a jacket or make a beautiful sachet of fancy fabric. You just glue on the flowers!
DOWNLOAD DESIGNS HERE
SHIPPING RATES

We now have our permanent shipping rates. We are sharing the cost with you on most shipments. To see the rates click on START SHOPPING and then the SHIPPING tab or click here
I hope you enjoy browsing!
To begin shopping, just click on START SHOPPING on the left.
Thanks!


We have found a great space in a building that was built in the 1890's and was a jewelry manufacturer. I love the old floors and the big modern windows. We've been painting, and Rick and Fred have been getting the shelves unpacked and set up.

Thank you again,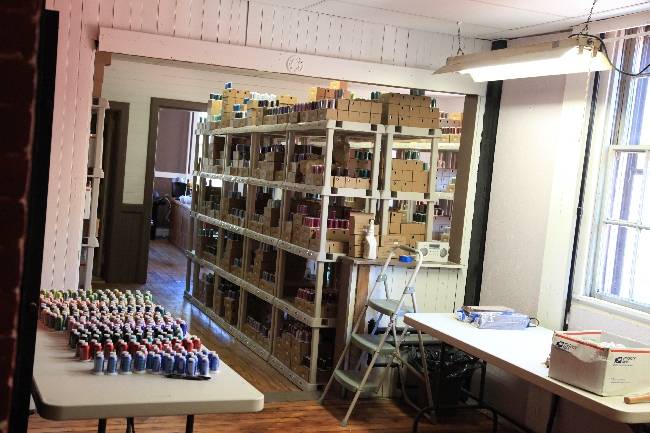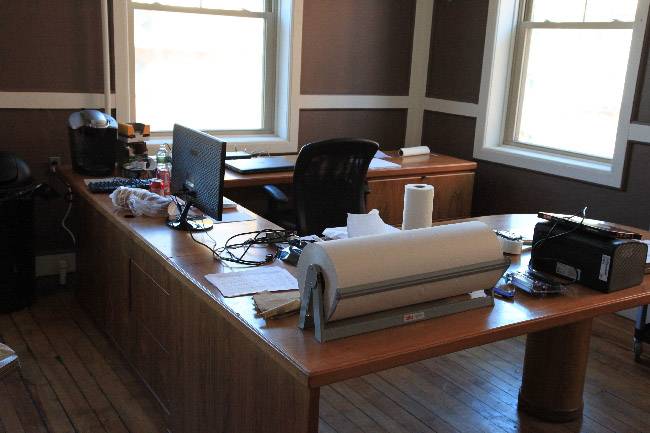 The images below show the warehouse
as it was coming together.
This first image shows a front office area in the background and some
of the several shelving units we have in place so far in one of three
storage areas.
Another view of one of the three storage areas. Since this photograph
was taken we now have all but one of the storage shelving units in
place for the 1000 meter polyester cones.
One more shot from the first storage area looking in to the second space.
There is another huge room behind the wall in the background so we have
plenty of room for expansion. Also in this second room is a large walk-in
safe that was used to store precious metals and jewels during the jewelry
manufacturing heyday in Attleboro.
As you can see, we even have a safe! It was originally used to hold the
gold and other precious metals. They are dotted through the huge building.

Another photo of the safe before any clean up or painting. I think this
was taken the first day we saw the place.